Waiting for you! Our Christmas & New Year lucky draw!
19 december 2022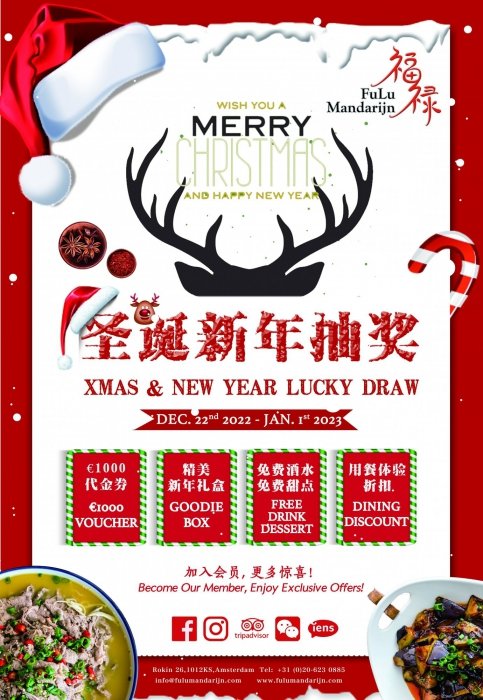 Planning where to celebrate Christmas and New Year? We've got you covered! While tasting the most authentic Chinese food, participate in our lucky draw!
From Dec 22nd, 2022 to Jan 1st, 2023, we have prepared €1000 vouchers, featured gifts, Christmas & New Year gift boxes and other prizes, waiting for you to get them! Various surprises will be prepared from time to time during the event!
Such a generous and sincere invitation is only to create a wonderful Christmas and New Year experience for our guests. Are you looking forward to it? Come and join us for our Christmas and New Year feast!
Delivery: Please order one day in advance in this busy period. We will deliver on 24/25/26/31/1 to Amsterdam /Amstelveen. For takeaway orders above €80, you will get a FREE "Party Combi" (beer + peanuts)!
We would like to remind you: On the evening of December 31st, our kitchen will closes at 7:30PM, the last available reservation slot is 7:00PM.
______________
FuLu Mandarijn Amsterdam: The Best Chinese Restaurant in Amsterdam City Center
Fulu Mandarijn Amsterdam: Het beste Chinese restaurant in het centrum van Amsterdam
福禄酒楼是阿姆斯特丹非常著名的中餐馆,坐落在水坝广场附近,在这绝佳的位置向您呈现最正宗的中国菜系及热情专业的服务,令您享受今生难忘的用餐体验。
福禄酒楼共有三层装饰优雅不同风格的餐厅,可同时容纳二百多人就餐。以烹饪川菜及各式新鲜海鲜为主,在欧洲享有盛名,曾多次登上阿姆斯特丹美食攻略推荐的榜首,被荷兰国家电视台和多家国家新闻媒体采访并报道,是当地客与游客在必去的中餐厅,也是众多中外明星经常惠顾的地方。
More information at: www.fulumandarijn.com
Location:Rokin 26, 1012KS, Amsterdam
Opening Hours
Monday 11:30-22:00
Tuesday 11:30-22:00
Wednesday 11:30-22:00
Thursday 11:30-22:00
Friday 11:30-22:30
Saturday 11:30-22:30
Sunday 11:30-22:00