Lucky foods for Chinese New Year Eve Dinner
18 januari 2023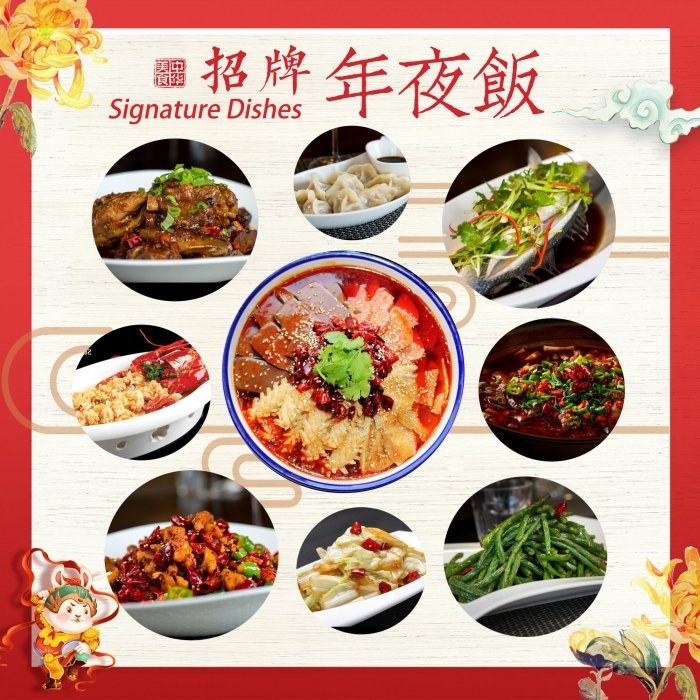 January 22, 2023 is Chinese New Year!
The New Year Eve dinner, also called "family reunion dinner", is considered as the most important family feast. People usually eat some lucky foods on the New Year's Eve dinner, these lucky foods have special meanings.
Here we have selected some lucky foods for you to ring in the Year of the Rabbit.
1. Boiled duck's blood and beef tripe in spicy sauce - Reunion
2. Steamed fresh lobster with Vermicelli and chopped gold and silver garlic - Happiness
3. Boiled dumplings - Wealthiness
4. Steamed sea bass with ginger and spring onion in soya sauce - Surplus
5. Dry fried chicken leg fillet with dry red chilli peppers – Good luck
6. Beef tenderloin with tofu in spicy pepper sauce – Success
7. Stewed trotters with spicy sauce - Wealthiness
8. Dry-fried green beans with red chilli pepper - Peace
9. Stir-fried Chinese cabbage with hot and sour sauce - Fortune
Need ideas for drink? 'Er Guo Tou' is a traditional Chinese liquor which goes well with Sichuan cuisine. You can just try and order a shot, it adds to an authentic Chinese way of enjoying the dishes!
______________
FuLu Mandarijn Amsterdam: The Best Chinese Restaurant in Amsterdam City Center
Fulu Mandarijn Amsterdam: Het beste Chinese restaurant in het centrum van Amsterdam
福禄酒楼是阿姆斯特丹非常著名的中餐馆,坐落在水坝广场附近,在这绝佳的位置向您呈现最正宗的中国菜系及热情专业的服务,令您享受今生难忘的用餐体验。
福禄酒楼共有三层装饰优雅不同风格的餐厅,可同时容纳二百多人就餐。以烹饪川菜及各式新鲜海鲜为主,在欧洲享有盛名,曾多次登上阿姆斯特丹美食攻略推荐的榜首,被荷兰国家电视台和多家国家新闻媒体采访并报道,是当地客与游客在必去的中餐厅,也是众多中外明星经常惠顾的地方。
More information at: www.fulumandarijn.com
Location:Rokin 26, 1012KS, Amsterdam
Opening Hours
Monday 11:30-22:00
Tuesday 11:30-22:00
Wednesday 11:30-22:00
Thursday 11:30-22:00
Friday 11:30-22:30
Saturday 11:30-22:30
Sunday 11:30-22:00